Two-Way Text and Email Fraud Alerts!
Our fraud monitoring network, Enfact, watches for suspicious or unusual transactions, and if a suspicious transaction appears on your card, you'll receive a text asking if it's legitimate. You can simply respond "YES" to confirm, or "NO" to report the transaction as fraudulent and have your debit card blocked from additional fraudulent charges!
In addition to text alerts, emails will also be sent with instructions on how to confirm a legitimate transaction or report it as fraud. Emails are sent from: noreply@EnFactNotifications.com
Ensure your cell phone number and email address are updated in our files so you can take advantage of this great offer! To update your contact information please visit a branch or send us a secure message via OnLine Banking!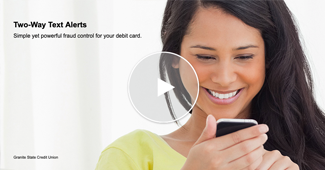 Show Fraud Who's Boss with CardControl!
Save time and maintain security safeguards to protect against fraud by controlling the cards in your wallet with the phone in your pocket.