Pay People with Popmoney


The easiest way to send money to family, friends, and anyone you know! All you need is their email address or mobile phone number to move money from your GSCU Checking Account to their account at any institution with Popmoney®, part of OnLine Bill Pay.
The Popmoney personal payment service enables you to send—and receive— money to and from those you know, or owe.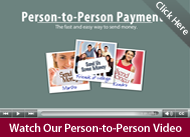 Send money directly without sharing private account information – securely and electronically.
No need to write a check or make a trip to the ATM.
Send and receive money as easily as you send and receive e-mail and text messages.
Payment is direct from your account to theirs, so it takes as little as one business day for them to receive their money.
Easy to send, simple to receive!
You can even add a personal greeting, like "Thanks for babysitting this weekend." or "Happy Birthday, Son!"
Sign up today.
Register for Bill Pay within OnLine Banking to start using this revolutionary new service.