Pay Bills
Take online banking to the next level of convenience with your GSCU Checking Account.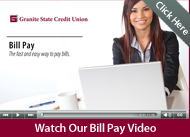 No checks to write
No bills to mail
No postage to pay
Deductions take place automatically on the date of payment
Account-to-Account Transfer lets you transfer funds between different institutions.
Pay People with Popmoney®—choose Person-to-Person Payments to pay anyone you know using just an e-mail address or phone number.
It's quick, easy and free to enroll in Bill Pay.
To register, login to your account with OnLine Banking 24/7 and select the Bill Pay tab. Then simply follow the Bill Pay Enrollment steps.

View Video