eStatements
You can get your statement sooner.
Save Time! Save Paper!
Arrives 3 to 4 days earlier than traditional mailed statements.
Safer and more secure than mailed statements.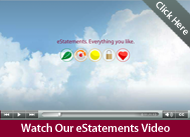 When your statement is ready, you'll receive an email alert notifying you that your statement is available in OnLine Banking.
It's easy to register.
Login to OnLine Banking, select Accounts from the main menu, and select eStatements. Then simply complete and submit a Member Registration form for each account.
Statement Files

Thank you for saving paper and postage with eStatements. Recent statement inserts are also online to keep you informed of credit union happenings.


CreditLine (emailed October 1, 2016)

CreditLine (emailed July 1, 2016)

CreditLine (emailed April 1, 2016)

CreditLine (emailed January 1, 2016)

Take the Holidays Off (November 1, 2015)

CreditLine (emailed October 1, 2015)

Privacy Policy (mailed October 1, 2015)

CreditLine (emailed July 1, 2015)

CreditLine (emailed April 1, 2015)

CreditLine (emailed January 2, 2015)

CreditLine (emailed October 1, 2014)

Privacy Policy (mailed October 1, 2014)

CreditLine (emailed July 1, 2014)
CreditLine (emailed April 1, 2014)

New Year, New Home Flyer (mailed February 1, 2014)
Winter Toy Loan Flyer (mailed February 1, 2014)

CreditLine (emailed January 2, 2014)

Statement FAQ's
Within OnLine Banking all of my accounts are available under one login, so why do I still receive multiple statements?
You should receive the same number of statements as you did on our previous system. While we did not combine statements for members, this is possible. If you would like to receive one combined statement for all accounts which you are the tax reported owner on, you may contact Member Services at 800-645-4728.
Why doesn't my child's Youth Account Statement reference "Kidcents" or "SCUA" any more? Did these accounts change?
There were no changes made to GSCU's Youth Accounts and your child will continue to receive quarterly Kidcents and SCUA email newsletters. The statements simply no longer include the logos for these accounts.

Why aren't the nicknames I set up for my accounts in OnLine Banking reflected on the statement?
Nicknames set in OnLine Banking are for member's personal use and are currently not a function of the statement process.
My statement notes a skipped check. What does this mean?
This simply alerts members that a check has cleared their checking account out of numerical sequence.
What does it mean when a check image on my statement notes "Image for this item not found"?
This occurs when a member's check is cleared over the counter at a GSCU teller line or if the check clears electronically at a merchant through ACH.
Why is the mailing address listed on my account slightly different than the one I use?
To ensure speed and accuracy, our statement vendor utilizes an automated program as statements are prepared for mailing that generates the US Postal Services preferred mailing address for the location noted.

Why does my statement note a past due date but the amount it notes as past due is $0?
This is simply the format in which loan due dates are reflected on the new statements. Payments received after this date would be considered past due.
Why isn't my payment amount due reflected on the statement?
The bill for your scheduled payment has not yet been generated by the system as this occurs 10 days prior to the payment due date. We are currently working with our vendor to resolve this issue so that your scheduled payment will appear as it did prior to the upgrade and anticipate that this resolution should be in place for the April statement.
What does the "Balance Subject to Interest" field on my Home Equity Line-of-Credit and Overdraft Line-of-Credit mean?
This reflects the average daily balance for the loan for the month.

"Interest Charged" appears in my statement history and again when a payment is made. Am I being charged twice?
Appearing on Line-of-Credit loans, "Interest Charged" reflects the amount that is being billed but is not assessed until the payment is made. For member clarity, this is being updated for the April 2015 statement to reflect "Interest Calculation" and "Interest Charged".
My Life & Disability Premium appears to post twice on my statement. Am I being charged twice?
The first line "Life Insurance Premium Calculation" or "Disability Insurance Premium Calculation" is simply a calculation of the premium and does not impact your account balance. The second item, "Loan Charge Capitalization" reflects the actual charge.
Why can't I see eStatements for the accounts I'm a joint owner on?
Due to security enhancements to our system, members are now identified as unique individuals as opposed to simply accounts. eStatements can only be accessed via the primary member's OnLine Banking log-in. Just as paper statements are addressed to the primary account owner as opposed to both the primary and joint, eStatements are now handled in the same fashion.
I have multiple accounts on which I am the primary and am now receiving individual statements for each. Can these be combined into one statement?
Members can request to combine statements for which they are the primary members of, by simply contacting a Member Service Representative at a branch location, via our Contact Center, or through a secure email noting the accounts they would like to combine.