OnLine Banking

First Time Login
If this is your first time logging in, please read these detailed login instructions.

Your Feedback Matters!
Account View Options in OnLine Banking

As a result of valued feedback from our members, OnLine Banking users are able to customize their account view. As part of this change, the account tiles have been positioned to display on screen in a horizontal layout, as opposed to the current vertical layout, with up to three tiles displayed per row. Tile size has also been reduced. So whether you prefer a list view or tiles, you can choose the option that best suits your preference.
List View:
Tile View:
To select view option:
Easy access you need to manage your accounts 24/7. Login here.

View all GSCU accounts under one login
Transfer Funds between your accounts here or at other institutions
Export account information to Quicken® or MS Money®
View Check Images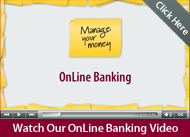 Video Tutorial
Check out this video tutorial to preview many convenient online features. It's quick, easy and free to enroll in OnLine Banking.
Get started today!
You simply need your Member Number, Primary Member's Social Security Number to enroll. Please view detailed instructions here.

Scheduled Maintenance
Please note that OnLine Banking is down briefly for regular maintenance every Sunday morning from 4 AM until 6 AM.

Budgeting Tips
We can help you manage everyday finances. Here are tips to fully utilize these OnLine Banking conveniences.
Account Flexibility. Designate separate accounts and keep your funds organized. Use a Special Savings account to save for tuition expenses or a Christmas Savings account to save for holiday expenses. To open a new account, stop by any GSCU Branch or call 800-645-4728.
Customize Your View. Access all of your credit union accounts with one convenient login. Remove accounts you don't need in your daily view by hiding them whenever wanted. Transfer money by easily clicking and dragging one account tile to the other.
Nickname Your Accounts. Help organize multiple accounts by adding nicknames at any time, such as a Vacation Savings account named "Disney Account" or "Honeymoon Fund." These nicknames only appear to you through OnLine Banking and do not affect the account names on your statement.
Payroll Deduction. Have all or a portion of your paycheck directly deposited to your account each pay period, depending upon your employer's capabilities.
Schedule Automatic Transfers. Schedule transfers to recur automatically; start and stop at any time. For example, have funds automatically transferred to your savings account each pay period to help you build up your savings.
System Alerts. Request an email or text alert when your account falls below a certain balance to help stay on top of your finances.
Check out the Frequently Asked Questions about OnLine Banking.